Back in April I wrote a story for Ars Technica about PACER, the federal judiciary's website(s) for public access to court records. Transparency is a fundamental principle of our judicial system because it allows us to fully understand the laws that bind us. Yet when it comes to accessing judicial records online, the judiciary falls well short of this ideal. PACER locks documents behind a paywall—charging 8 cents per "page"—and forces users to use a cumbersome search interface that's inscrutible to non-lawyers.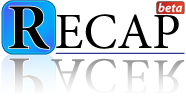 Tonight I'm excited to announce RECAP, a project I've been working on for a few months. It's co-authored by fellow grad student Harlan Yu and friend Steve Schultze, under the supervision of my advisor Ed Felten.
What RECAP does is very simple: whenever a user downloads (and pays for) a document from PACER, RECAP helps the user automatically send a copy of that document to a public archive hosted by the Internet Archive. In addition (and here's the real selling point for users), if a user searches for a document that's already in the public archive, RECAP will notify the user of this fact and give him the option of downloading the free version, saving the user money on PACER fees. Users can (to paraphrase Carl Malamud) save money as they save public access to the law.
Why is this important? Well, as some of my colleagues have pointed out, there's tremendous potential for private-sector actors to do useful things with public data once it's been pried out of the hands of the government. I don't know what those uses might be for judicial records, but I'm confident there will be some. Moreover, judicial records are particularly important because legal decisions are binding precedent. If it's hard for me to access the law, it's hard for me to learn what the law requires of me. So think it's unacceptable that almost 20 years after the emergence of the web, judicial records still aren't freely and publicly available.
The success of our project will depend on convincing lawyers to download our plugin. So if you know any lawyers, please pass the news along. The installation process is painless and the software is extremely user-friendly.