Twenty years ago today, the first East Berliners poured across the wall that had imprisoned them for 28 years. Matt Yglesias points to a great Fred Kaplan story on the origins of the wall. Because West Berlin was located deep inside East Germany, it became a magnet for people wanting to escape communist tyranny during the 1950s. The constant flood of people became an embarrassing political problem—a daily reminder of how spectacularly the East German economic and political systems were failing to serve their people. So after trying and failing to persuade Eisenhower to give him control over West Berlin, Khrushchev settled on a second-best solution: building a wall that would cut West Berlin off from the surrounding East German territory. For the next 28 years, the wall stood as a symbol of the failures of the Soviet economic system.
But the Berlin wall wasn't
just
a symbol of communism's failure; it was also a very tangible restriction on the freedom of individual East Berliners. Before the wall fell, East Germans had to content themselves with the opportunities available inside the Soviet bloc. After November 9, 1989, East German citizens suddenly enjoyed a much broader universe of opportunities. They could visit relatives in West Germany, travel easily to the rest of Western Europe, and even take jobs outside the Soviet bloc. The Berliners who tore down the wall so enthusiastically were not just celebrating the collapse of a repressive regime, they were also celebrating their newfound freedom to come and go as they please.
It's striking how much conservative attitudes toward freedom of movement have shifted over the last 20 years. Conservatives used to cheer those who risked their lives and defied the authorities in search of freedom and opportunity. East Berliners who snuck across the wall could count on a hero's welcome from American conservatives. And indeed, conservatives still have this attitude toward Cubans fleeing the Castro regime.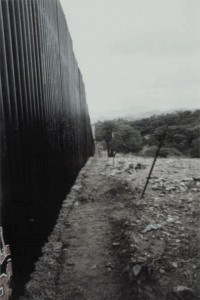 So it's jarring that less than 20 years after one Republican president gave a stirring speech about the barbarity of erecting a wall to trap millions of people in a country they wanted to leave, another Republican president signed legislation to do just that. Conservatives, of course, bristle at analogies between East Germany's wall and our own, but they seem unable to explain how they actually differ. Certainly Rich Lowry's effort comes up short. He suggests that the Berlin Wall was "an instrument of repression" while the US-Mexico wall is "a way for a nation of laws to see that those laws are obeyed." But this is no distinction at all. After all, the East German government was trying to compel obedience to its laws just as we're trying to compel obedience to ours. The key difference, is whether the laws are repressive. I'll grant that East German laws are more repressive than our own, but it seems like a difference of degree rather than kind. American law makes it essentially impossible for a low-skilled worker to emigrate or take a job here legally. The Mexican government obviously isn't as repressive as the East German one was, but if the US-Mexico wall is completed, it's hard to see how it will look different to the average Mexican than the Berlin wall did to the average East German.