I've beaten the "economics of e-books" horse to within an inch of its life, so I'll make one more point and then leave the poor horse alone. One point that tends to be missed when people worry about how writers or musicians will make money is that it's far from obvious what the optimal number of professional writers or musicians is.
Consider baseball. There are tens of millions of people who play baseball and softball (I'll just use "baseball" to refer to both for convenience). They span all ages, races, and social classes. And they do it for a wide variety of reasons. Some are kids who are doing it because their parents made them. Some are high school kids who do it to raise their status at school and become more attractive to the opposite sex. Some are college kids with sports scholarships. A huge number are adults who are doing it for the exercise or as an excuse to drink beer. And a tiny fraction plays baseball as a full-time job.
It's hard to see any reason to be concerned, as a public policy matter, with the fraction of baseball players who play professionally. I don't think I've ever heard a baseball fan complain that there aren't enough games to watch. Indeed, the number of baseball games being played could drop by a couple orders of magnitude and it still wouldn't be physically possible for a hard-core fan to watch them all.
You could make the same point about a wide variety of other cultural activities. Knitting and quilting, wine and beermaking, and cooking are all cultural activities that people perform at a wide variety of skill levels and with a wide variety of "business models." They're all "industries" in which the low end of the market is dominated by people who have entered it as a hobby, social activity, or retirement project. My wife reguarly buys $20 worth of wool and then spends 100 hours knitting a sweater with it. Obviously she's not going to be able to sell the sweater at a profit, but that's not the point.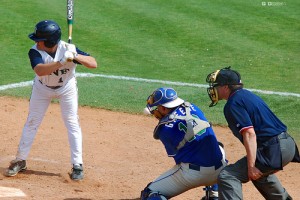 There's something perverse about the way the 20th-century book and recording industries were driven almost entirely by commercial considerations. There's no reason book-writing or music-recording should be a primarily commercial activity, any more than ice skating, crocheting, or playing tennis are. But the limits of 20th-century printing, pressing, and distribution technology forced anyone who wanted to reach a large audience to employ a commercial business model. The vast majority of people who would have liked to offer books or music to a large audience didn't have the opportunity to do so at all. The Internet is restoring a healthier balance to these cultural "industries," allowing people like my former co-blogger Brian Moore to write as a hobby without necessarily expecting to ever quit his day job.
It's hard to predict exactly how this will affect the number or compensation of professional writers or musicians. As a sometime freelance writer, I certainly hope that the market for paid writing will expand, and I suspect that will hold true in the long run. But it's also not clear why this should be a matter of concern from a public policy perspective. If the market for paid writing shrinks, it will be because the amateur stuff is good enough to meet more of the demand. That's bad for sometime professional writers like me. But it's a good thing for the public as a whole—both because they get more stuff to read and because some of them get the satisfaction that comes from writing for a non-trivial audience.