One of the striking things about the immigration debate is the disconnect between public perception of the immigration situation and objective reality. A recent poll found that 59 percent of respondents consider illegal immigration to be a "very serious" problem. A majority of those polled expressed support for Arizona's draconian immigration law, and a whopping 66 percent of voters said they wanted to see immigration laws in general enforced more strictly.
We can't ask these respondants what kind of "very serious problems" they had in mind. But undoubtedly one of the concerns is the widely-discussed fear of a crime wave fueled by illegal immigrants. The violence across the border in Mexico is frequently cited as a focal point for concern, and when illegal immigrants do commit crimes here in the US, people like Bill O'Reilly exploit it to whip up anti-immigrant sentiments.
The problem with the "illegal immigrant crime wave" story is that it's not reflected in the data. The Wall Street Journal recently reported falling crime rates across Arizona (and nationwide):
In Phoenix, police spokesman Trent Crump said, "Despite all the hype, in every single reportable crime category, we're significantly down." Mr. Crump said Phoenix's most recent data for 2010 indicated still lower crime. For the first quarter of 2010, violent crime was down 17% overall in the city, while homicides were down 38% and robberies 27%, compared with the same period in 2009.

Arizona's major cities all registered declines. A perceived rise in crime is one reason often cited by proponents of a new law intended to crack down on illegal immigration. The number of kidnappings reported in Phoenix, which hit 368 in 2008, was also down, though police officials didn't have exact figures.
My colleague Dan Griswold has more on the non-existent immigrant crime wave. So does Adam Serwer, who also corrects the misperception that the federal government has failed to take decisive action to stop illegal immigration. In reality, deportations have been rising rapidly for the last decade, with the Obama administration deporting more than twice as many people in 2009 as the Bush administration did in 2002: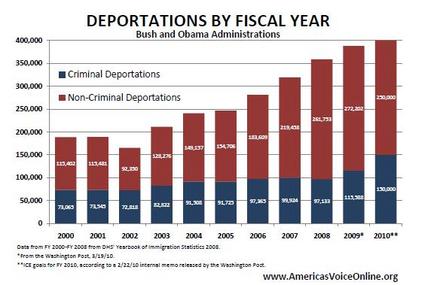 And that was on top of dramatic increases in immigration enforcement in the late 1980s and 1990s. As Griswold noted way back in 2004, we had at that point already quintupled spending and tripled personnel at the Mexican border. Whatever else you might say about our immigration policy, it certain hasn't lacked for law enforcement resources.
This reminds me of a conversation I had a few months ago with a family friend who told me she was very concerned about the problem of illegal immigration. The strange thing was that she was awfully vague about the exact nature of the problem as she saw it. She said she actually had a good experience a few years ago when she had two different teams work on a construction project. She found the Hispanic team (some of whom may have been undocumented) were both harder-working and more competent than the native-born, unionized crew they replaced. And she said she felt sympathetic to workers who wanted to come here to find opportunities they couldn't get at home.
She seemed really surprised when I pointed out to her that it's basically impossible for an unskilled Hispanic immigrant to get permission to work here if he doesn't have family connections. She said that if this were true, then the law needed to be changed to give people currently here illegally a path to legalization. Which is, of course, precisely what the 2007 immigration bill was about.
Now obviously, I shouldn't read too much into a single anecdote. This family friend is a well-educated and liberal minded person; no doubt some of the poll respondents were animated by darker motives. But a lot of the support for the "enforce the law" position seems to be driven by voter ignorance. Immigration opponents like Lou Dobbs have painted an inaccurate but compelling picture of lawless immigrants and a passive federal government. Countering that impression, and helping voters understand that we've created a legal system that puts many foreign-born people in impossible situations, is crucial to building support for reform.