Until recently, if you bought an iPhone (which I did) or a Pre, your only officially-permitted mechanism for getting applications onto your phones was the iTunes App Store or the Palm App Catalog, respectively. This is strange: most modern software platforms have open executable formats that allow developers to distribute their software directly to end-users. So, for example, you don't need to get Apple's approval to release a new application for Mac OS X. But iPhone and Pre users don't enjoy that freedom. And the result, I think, is a great illustration of the problems that top-down systems can create.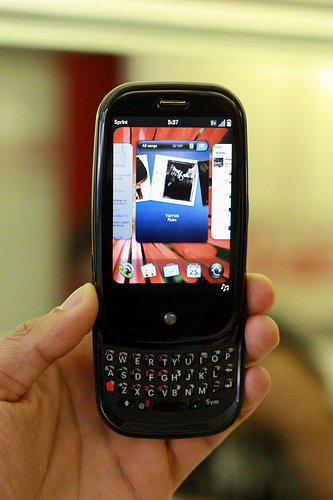 An app store sounds like a good idea in principle. Users want applications, and app stores give them a convenient way to get them. And Apple and Palm are understandably concerned about quality control. But the problems start when the app store is made the sole distribution channel for applications. One developer recently recounted his months-long ordeal seeking approval for a Pre application. This was an application he developed by himself, in his free time, and was seeking to give away for free. Three months and dozens of emails later, the application in question still isn't available to Palm users. Apple's approval process is plagued by the same kind of problems: rejections for trivial or non-sensical reasons and long delays in the review process have become a staple of the tech blogosphere.
The striking thing about these incidents is that they don't seem to be the behavior of a rational, profit-maximizing firm. Some of the rejections could be plausibly described as strategic business decisions, and others may be legitimate quality control, but we've seen a number of examples that can only be described as pure stupidity. It seems unlikely that the management of Apple or Palm deliberately set out to make the review process slow, unpredictable, and frustrating for developers. The value of a platform is greatly enhanced by third-party applications. These companies should be bending over backwards to make the review process as simple and painless as possible.
I think the problems with the Pre and iPhone approval processes reflects the inevitable inefficiencies of top-down filtering. Reviewing applications is a complex, labor-intensive process. As these platforms have grown, the number of people required to perform the necessary review has grown as well. And as the number of reviewers grows, it gets harder and harder to make the process both fair and efficient. Different applications will be given to different reviewers, who will interpret the rules (which may not be particularly clear to start with) differently. The overhead required to keep all reviewers on the same page grows faster than the number of reviewers, so as the platform gets more popular the review process itself becomes a major bottleneck for the platform's continued growth.
This is an old story in the technology industry. In the 1990s, for example, we saw a competition between the open Internet and a variety of closed online services like AOL and CompuServe. The open Internet won because it scaled better. Because no one had to ask permission to offer a new Internet service, the quantity of interesting content and applications on the open Internet grew at a rate no one firm could hope to compete with. Top-down systems scale poorly, and so making a top-down system a bottleneck for your platform is a long-term recipe for stagnation.
This week Palm announced some changes to its approval process that sound like steps in the right direction. Although the details are still sketchy, it appears that application developers will soon have the option to release their software directly to the general public, bypassing Palm's approval process. If you want to get your application into Palm's app catalog, you still have to submit to Palm's review process, but review won't be a pre-condition for distribution.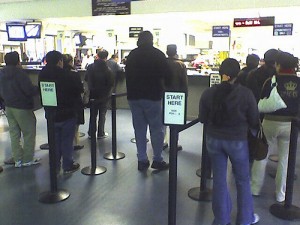 Making review optional nicely addresses the scalability problems with the app store concept. Mandatory review of every app means that Palm wastes resources reviewing applications whose developers may not need it or may lack the time and resources to fully participate. In contrast, optional inclusion in the app catalog allows developers to self-select into the program if they think they will benefit. And this, in turn, allows Palm to focus its resources on reviewing and approving the cream of the crop. Most important, it removes the review process as a bottleneck for platform growth. The option to route around the app catalog acts as a sort of safety valve, ensuring that the inadequacies of the review process won't bring down the whole platform.
The more fundamental point here is that people tend to underestimate the extent to which scalability problems limit the effectiveness of top-down social systems. I'm sure that the app catalog looked like a great idea on some Palm executive's powerpoint slide. In the abstract, it's easy to imagine that a review process can be made quick and painless. On a real-world platform with thousands of developers, the practical realities of bureaucratic management become binding constraints. Policies that seem reasonable on paper may turn out to be unworkable in practice because they require too much coordination between different parts of the bureaucracy. But the specific difficulties are hard to predict in advance, since they are precisely the kind of implementation details that an executive's powerpoint slide is designed to ignore. And so decision-makers are prone to systematically underestimate the difficulties of top-down management.
This is why in many cases, including this one, the right solution is to avoid creating bottlenecks in the first place. Firms should recognize that successful technology platforms are too complex to be controlled effectively by any one firm. If they want their platforms to flourish, they need to decentralize decision-making, giving their users ultimate authority over which applications they use. "App stores" can be a useful way to help users find the best applications, but when app store approval becomes mandatory, it becomes a major impediment to the success of high-tech platforms.