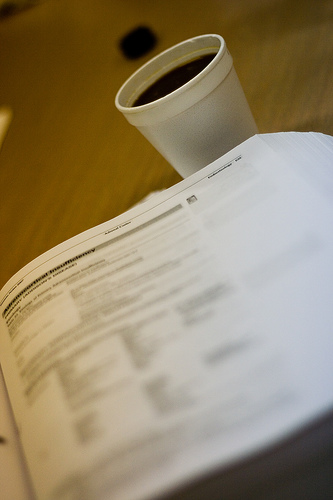 My wife is a first year medical resident, so I read this article by my friend Kevin O'Reilly with interest. Until I started dating a med student, I didn't realize how absurdly overworked medical residents (recently-graduated doctors going through mandatory apprenticeship) are. In 2003, the medical profession instituted rules reducing residents' hours to a maximum of 80 hours per week. And rumor has it that some hospitals (although thankfully not my wife's) pressure their residents to work significantly more than 80 hours per week and then lie on their timesheets to cover it up.
Kevin interviews some folks who argue that the long hours are necessary because the alternative is an increase in the number of handoffs. That is, if hospitals had (say) three 8-hour shifts instead of two 12-hour shifts, that would mean that each patient has three different doctors per day instead of two, and the odds of miscommunication will increase accordingly. This argument makes a certain amount of sense to me, and I think it helps explain the idea of 12-hour shifts. But it doesn't explain the 24-hour weekend shifts my wife works about every other weekend. If two handoffs a day is too much, then residents should be working 24-hour shifts during the week too and get more days off. Contrariwise, if two handoffs a day doesn't endanger the patient during the week, why force doctors to work 24-hour shifts during the weekend? More generally, what's the justification for forcing doctors who've just finished five long weekday shifts to work weekends as well?
Some of the people Kevin talked to also say the research on sleep and safety is inconclusive, but this just doesn't seem like the kind of question that requires a lot of empirical research. My productivity declines sharply if I haven't gotten a good night's sleep the previous night, or if I try to work longer than 12 hours in a stretch. I don't think I've ever worked sucessful for 24 hour straight. So I think it's completely obvious that a resident who's nearing the end of a 24-hour shift, and who's worked every day for two weeks straight, is going to be less alert and think less clearly than a resident who's well rested. It would be nice to have empirical evidence showing this, but if the evidence is inconclusive I think we can still be pretty clear that the effect exists.
The reality, I suspect, is that hospitals simply aren't able or willing to shell out the money for the additional doctors they'd need to hire in order to give their residents sane schedules. Which, frankly, should make patients angry. I certainly don't want life-or-death decision about my care made by some girl who's fighting exhaustion.