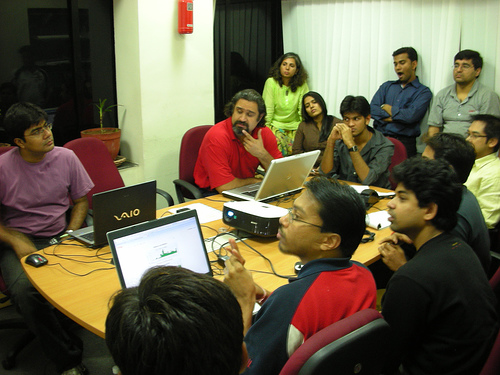 I've argued before that a lot of top-down thinking is driven by a tendency to anthropomorphize complex systems or processes. If a system is hard to understand in its full complexity, people deal with it by thinking about it as if it's a big person. In any essay he wrote last year, Paul Graham essentially argues that the management of large companies amounts to turning the style of thought I've been criticizing into an organizing principle:
[Small groups in large organizations] are always arranged in a tree structure. Your boss is the point where your group attaches to the tree. But when you use this trick for dividing a large group into smaller ones, something strange happens that I've never heard anyone mention explicitly. In the group one level up from yours, your boss represents your entire group. A group of 10 managers is not merely a group of 10 people working together in the usual way. It's really a group of groups. Which means for a group of 10 managers to work together as if they were simply a group of 10 individuals, the group working for each manager would have to work as if they were a single person—the workers and manager would each share only one person's worth of freedom between them.

In practice a group of people are never able to act as if they were one person. But in a large organization divided into groups in this way, the pressure is always in that direction. Each group tries its best to work as if it were the small group of individuals that humans were designed to work in. That was the point of creating it. And when you propagate that constraint, the result is that each person gets freedom of action in inverse proportion to the size of the entire tree.

Anyone who's worked for a large organization has felt this. You can feel the difference between working for a company with 100 employees and one with 10,000, even if your group has only 10 people.
How bad these problems are depends a lot on what your large organization is trying to do. If the organization is trying to do something routine, then limiting individual freedom might not matter too much. If you're running an automobile assembly line, for example, you don't necessarily want individual workers doing a ton of improvising, so a structure that constrains employee freedom might not be such a big deal. (Although even there you want your employees proactively looking for problems that might stop the assembly line) On the other hand, this kind of thing is absolutely deadly in a creative industry like software. The job of a computer programmer is to write software that's never been written before (software that already exists can be copied, after all) so the process of software development can never be made routine like the steps of an assembly line. So limiting a programmer's freedom is going to have a big, negative impact on his productivity.
Google's management seems to understand this problem, and they've apparently adopted some interesting strategies for dealing with it. One is 20 percent time, the practice of allowing each programmer to spend one day a week working on a project that isn't decided by the Google hierarchy—this leaves some room for bottom-up creativity within the company. Another approach Google has pursued is to make the hierarchy as flat as possible. Reportedly, Google gives each manager an absurd number of direct employees—on the order of 50—with the specific goal of making it impossible for bosses to micro-manage their employees.
Nevertheless, Google isn't immune from the forces Graham is describing. I have friends who interned at Google at various points between 2004 and the present. From what they tell me, the character of the place has changed dramatically. As the firm grew by an order of magnitude, it was simply inevitable that the freedom experienced by individual employees would suffer. And it's probably inevitable for Google to complete its transition into just another big company—following in the footsteps of Yahoo!, Netscape, and Microsoft before them. (Interestingly, Apple might be an exception; Steve Jobs has always run Apple like a dictatorship, so Apple employees may not have had any freedom to lose as the company grew.)
The practical consequence of growing companies is that increasing bureaucracy has a stifling and homogenizing effect. In a small company, an individual's outstanding effort can make a big difference on the overall performance of the company, and senior management is likely to notice the contribution and reward it. In a large company, employees not only don't have the freedom to do things that make a big difference for the company's bottom line, but even if they did it's unlikely they'd get the credit. As a consequence, the most talented programmers almost inevitably get a raw deal at large companies, because they're neither as productive as they could be, nor are they fully rewarded for the level productivity they do achieve.