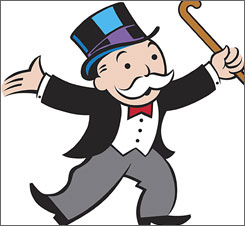 An oft-repeated criticism of the Citizens United decision is that the protections enumerated in the Bill of Rights apply to individuals, not corporations. This is an argument that seems plausible on first glance, but as Julian nicely illustrates, it falls apart quickly upon closer examination:
Having dispensed with the repellent doctrine of corporate personhood, we can happily declare that journalists enjoy full freedom of the press … as long as they don't plan on using the resources of the New York Times Company or Random House or Comcast, which as mere legal fictions can be barred from using their property to circulate unpatriotic ideas. You're free to practice your religion without interference — but if it's an unpopular one, well, let's hope you don't expect to send your kids to a religious school or build a church or something, because those tend to involve incorporating. A woman's right to choose is sacrosanct, but since clinics and hospitals are mere corporations with no such protection, she'd better hope she knows a doctor who makes house calls.
As Glenn Greenwald explains, the four liberal justices who dissented in Citizens United did not rely on the idea that free speech rights are limited to natural persons. Instead, they argued that the danger of corruption is a sufficiently compelling state interest to survive the "strict scrutiny" typically applied to limits on speech. All nine justices acknowledged that corporations have free speech rights and that the limits on corporate speech in the Bipartisan Campaign Reform Act were subject to First Amendment scrutiny.