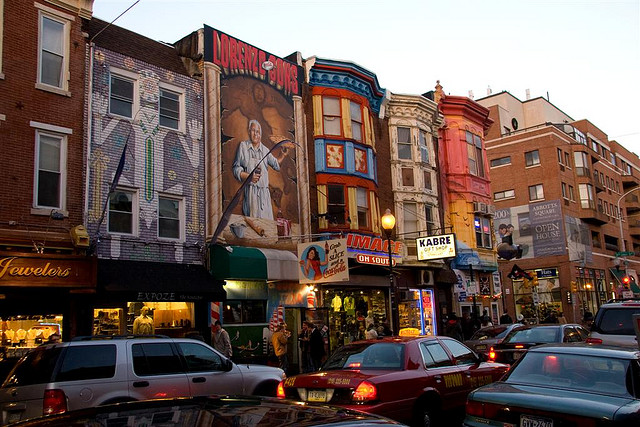 Jane Jacobs's final criterion for successful urban neighborhoods was the existence of aged buildings:
If you look about, you will see that only operations that are well established, high-turnover, standardized, or heavily subsidized can afford, commonly, to carry the costs of new construction. Chain stores, chain restaurants and banks go into new construction. But neighborhood bars, foreign restaurants, and pawn shops go into older buildings. Supermarkets and shoe stores often go into new buildings; good bookstores and antique dealers seldom do. Well-subsidized opera and art museums often go into new buildings. But the unformalized feeders of the arts—studios, galleries, stores for musical instruments and art supplies, backrooms where te low earning power of a seat and a table can absorb uneconomic discussions—these go into old buildings. Perhaps more significant, hundreds of ordinary enterprises, necessary to the safety and public life of streets and neighborhoods, and appreciated for their convenience and personal quality, can make out successfully in old buildings, but are inexorably slain by the high overhead of new construction.

As for really new ideas of any kind—no matter how ultimately profitable or otherwise successful some of them might prove to be—there is no leeway for such chancy trial, error and experimentation in the high-overhead economy of new construction. Old ideas can sometimes use new buildings. New ideas must use old buildings.
This, of course, is exactly parallel to the argument for disruptive technologies: lowering costs increases experimentation. When the inputs to entrepreneurship fall, you get more entrepreneurs. And more importantly, you get different kinds of entrepreneurs. High rents often require entrepreneurs to raise outside capital, which means the entrepreneur can only open the kind of business he can persuade someone else to finance. Low rents allow entrepreneurs to cover more of the cost out-of-pocket, which means they can take bigger risks.
This seems to be the only one of Jacobs's four rules that holds as well in the suburbs as it does in the city. Tyler Cowen has observed that the best ethnic restaurants in the DC area tend to be in the suburbs, where, as he puts it, "The best ethnic restaurants are often found in suburban strip malls, where rents are lower and the degree of feasible experimentation is greater. Small and cheap ethnic restaurants are often better than large ones." Presumably, when Jacobs was writing, in 1961, there would have been very few old buildings in the suburbs. A half-century later, old suburban buildings are more common, while urban real estate in some metro areas (including DC) has gotten significantly more expensive. So this particular advantage of urban living isn't as large as it used to be.