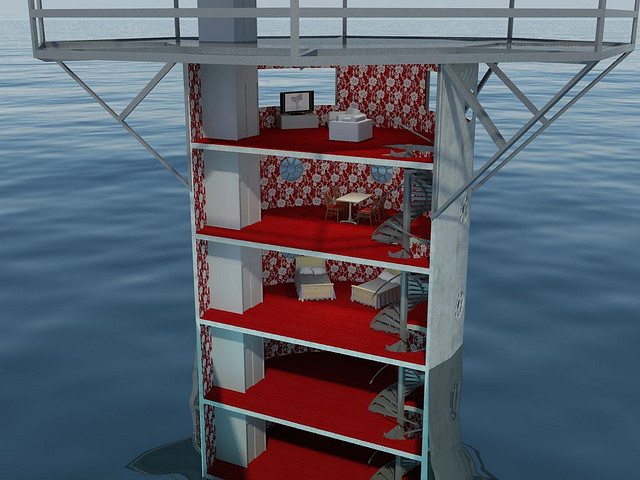 I first wrote about seasteading two years ago, shortly after the Seasteading Institute launched. The brainchild of Patri Friedman (grandson of Milton) and others, seasteading is a program for political reform based on a proliferation of self-governing ocean colonies. As I described it in 2008:
A key advantage of seasteads is what Friedman calls "dynamic geography," the fact that any given seasteading unit is free to join or leave larger units within seasteading communities. Seasteading platforms would likely band together to provide common services like police protection, but with the key difference that any platform that was dissatisfied with the value it was receiving from such jurisdictions could leave them at any time. [Friedman] argues that this would "move power downward," giving smaller units within society greater leverage to ensure the interests of their members are being served.
Seasteading is based on a delightfully bottom-up argument: that the problem with government is the lack of choice. If I don't like my job, my apartment, or my grocery store, I can easily pick up and go somewhere else. The threat of exit induces employers, landlords, and store owners, and the like to treat us well without a lot of top-down oversight. In contrast, switching governments is hard, so governments treat us poorly. Seasteaders aim to change that.
The pragmatic incrementalism of seasteading is also appealing. Friedman doesn't have to foment a revolution, or even win an election, to give seasteading a try. If he can just a few hundred people of the merits of his ideas, they can go try it without needing assistance or support from the rest of us. If the experiment fails, the cost is relatively small.
Yet seasteading is a deeply flawed project. In particular, the theory of dynamic geography is based on a fundamental misunderstanding of the relationships among mobility, wealth creation, and government power. In a real-world seasteading community, powerful economic forces would cripple dynamic geography and leave seasteaders no freer than the rest of us.
To see the problem, imagine if someone developed the technology to transform my apartment building in Manhattan into a floating platform. Its owners could, at any time, float us out into the Hudson river and move to another state or country. Would they do it? Obviously not. They have hundreds of tenants who are paying good money to live in Manhattan. We'd be furious if we woke up one morning and found ourselves off the coast of South Carolina. Things get more, not less, difficult at larger scales. Imagine if Long Island (which includes the New York boroughs of Queens and Brooklyn and a lot of suburbs) were a huge ocean-going vessel. The residents of Long Island would overwhelmingly oppose moving; most of them have jobs, friends, familiy, churches, favorite restaurants, and other connections to the rest of the New York metro area. The value of being adjacent to Manhattan swamps whatever benefits there might be to being part of a state with lower taxes or better regulations.
Successful cities need a variety of infrastructure—roads, electricity, network connectivity, water and sewer lines, and so forth. At small scales you could probably design this infrastructure to be completely modular. But that approach doesn't scale; at some point you need expensive fixed infrastructure—multi-lane highways, bridges, water mains, subway lines, power plants—that only make economic sense if built on a geographically stable foundation. Such infrastructure wouldn't be feasible in a "dynamic" city, and without such infrastructure it's hard to imagine a city of even modest size being viable.
I think the seasteaders' response to this is that the advantages of increased liberty would be so large that people would be willing to deal with the inconveniences necessary to preserve dynamic geography. But here's the thing: The question of whether the advantages of freedom (in the "leave me alone" sense) outweigh the benefits of living in large urban areas is not a theoretical one. If all you care about is avoiding the long arm of the law, that's actually pretty easy to do. Buy a cabin in the woods in Wyoming and the government will pretty much leave you alone. Pick a job that allows you to deal in cash and you can probably get away without filing a tax return. In reality, hardly anyone does this. To the contrary, people have been leaving rural areas for high-tax, high-regulation cities for decades.
Almost no one's goal in life is to maximize their liberty in this abstract sense. Rather, liberty is valuable because it enables us to achieve other goals, like raising a family, having a successful career, making friends, and so forth. To achieve those kinds of goals, you pretty much have to live near other people, conform to social norms, and make long-term investments. And people who live close together for long periods of time need a system of mechanisms for resolving disputes, which is to say they need a government.
The power of governments rests not on the immobility of real estate, but from the fact that people want to form durable relationships with other people. The residents of a seastead city would be no more enthusiastic about dynamic geopgrahy than the residents of Brooklyn. Which means that the government of the city would have the same kind of power Mayor Bloomberg has. Indeed, it would likely have more power, because the seastead city wouldn't have New Jersey a few hundred yards away ready to take disaffected residents.