Responding to the growing trend of Fox News personalities (Sarah Palin, Mike Huckabee, etc) forming PACs and promoting them on the air, Stephen Colbert recently announced plans to create a PAC of his own. But then he got a letter from a Viacom lawyer (which he of course read on the air) informing Colbert that his promotion of the PAC on-air could constitute an "in-kind donation" by Viacom to the (not yet created) PAC, and that Viacom could therefore be guilty of violating federal law if Colbert actually created it. So on Friday, he made a media stunt out of traveling to the FEC to ask for a "media exemption," which allows members of the news media to ignore campaign finance laws that apply to everyone else:
Colbert's shtick is to play a buffoonish right-wing pundit who spouts ridiculous arguments that the audience is supposed to root against. So I think the idea is that we're supposed to think it's ridiculous that Stephen Colbert would use his position as a media personality to raise money for a PAC that would then attempt to influence elections. But there's some serious cognitive dissonance going on here. Colbert's parody beautifully, if inadvertently, illustrates what's wrong with the liberal critique of the Citizens United decision.

In progressive mythology, Citizens United is a case about whether large corporations like BP, Verizon, and Pfizer can use their vast resources to buy ads that drown out the voices of other participants in the political debate and sway elections toward candidates they favor. This is a real problem, and I think Senators McCain and Feingold sincerely believed the legislation that bears their names would help solve it.
But "corporations" include many entities beyond the Fortune 500. The ACLU, Sierra Club, and Human Rights Watch are all corporations. "Free speech for corporations" might sound insidious if the corporation in question is Exxon Mobil. But it's harder to get worked up about the corrupting influence of "corporate speech" when we're talking about the ACLU running television ads criticizing a candidate for supporting the Patriot Act.
Under the First Amendment, citizens are entitled to buy ads criticizing a political candidate, especially in the last 30 days of an election. And a group of citizens who lack the resources to buy ads individually are entitled to use the corporate form to pool their resources and buy those ads collectively. That's what Citizens United (the non-profit conservative organization) was doing when it bought ads promoting an anti-Hillary Clinton movie during the 2008 primaries. And in Citizens United (the Supreme Court decision) the high court affirmed their right to do so.
Which gets to the weirdness of Colbert's parody. Stephen Colbert is trying (or at least pretending) to create a vehicle for his fans to pool their money so that Colbert can create ads "promoting" (mocking) conservative candidates. The ads are guaranteed to be funny, and they could also influence 2012 political races. I think that's a brilliant idea, and I'm glad that the Supreme Court has affirmed Colbert's (and his fans') right to engage in this type of political speech. Colbert, in contrast, seems to be mocking his own free of speech rights. By asking us to root against Colbert-the-character's quest for a PAC, Colbert-the-comedian seems to be implying that it's ridiculous that the law would allow him to create such a PAC. But it isn't ridiculous. Colbert should be free to create the PAC, people should be free to give to it, and Colbert should be free to tell people about the PAC on his show.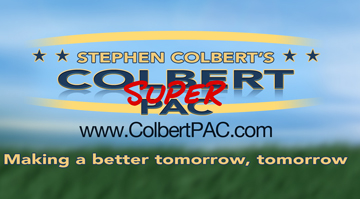 I think Colbert's response would be that although Colbert's PAC will mostly get donations from his fans, the "bad" PACs he is parodying take much larger (and more corrupting) donations from large, for-profit corporations. But this isn't how free speech jurisprudence works. For censorship to pass constitutional muster, it needs to be narrowly tailored to a compelling governmental interest. Maybe the First Amendment allows Congress to regulate certain kinds of corporate speech, but if so it still requires Congress to do it without censoring other, constitutionally protected speech. And it's hard to see a plausible rationale for regulating the political speech of the ACLU, the Sierra Club, or (yes) the Colbert Super PAC.
And as much as liberals might not like it, the same point applies to Sarah Palin and Mike Huckabee. They're not my favorite politicians, and I doubt I'll like how they spend peoples' donations. But the fact is that millions of American voters share Palin and Huckabee's politics. They're entitled to have their views represented in the political arena, and giving to a PAC run by Palin or Huckabee seems like a reasonable way to do it. There's nothing alarming or corrupt about them using the soapbox Fox News provides them to inform their viewers about this opportunity to participate in the political process.

Laws that restrict this kind of grassroots political activity—or the use of corporate-owned television networks to promote it—are inconsistent with the First Amendment. If Congress wants to address political corruption problems, it has an obligation to do it without burdening the political speech of people like Stephen Colbert. Colbert doesn't seem to understand this point, but his antics are proving it anyway.