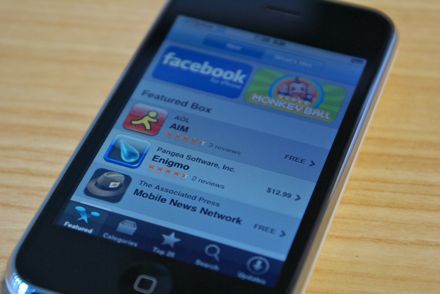 There's been a lot of controversy recently over Apple's tight-fisted control over the market for iPhone applications. Apple reviews every application submitted for sale via the iPhone App Store and regularly rejects applications that don't meet its standards. More galling to iPhone developers, Apple is sometimes vague about why an application gets rejected, leaving a developer who's poured months of effort into an application stranded.
The latest round of debate was sparked by Apple's decision to reject the Google Voice application. That got the attention of the FCC, which sent letters to Apple, Google, and AT&T demanding an explanation for the decision. My former blogging colleagues Adam Thierer and Jerry Brito weren't too happy about this, pointing out that it's not clear the FCC has any authority in this area. And my friend Peter Suderman chimed in in support of Apple, noting that Apple has done more to enhance the dynamism of the wireless industry than the FCC ever will.
This is an especially worrisome trend because we're rapidly approaching a world in which every digital device has a wireless card. So if the FCC has the authority to regulate the software on the iPhone because it happens to have wireless capabilities, the same reasoning would seem to give the FCC authority over almost any digital device. And that seems like a bad idea. There's no reason to think the software industry—wireless or otherwise—needs more government oversight. And if there is going to be government oversight, there's no reason to think the FCC is especially qualified to provide it.
I was, therefore, a little disappointed to see the Electronic Frontier Foundation's Fred Von Lohmann jump on this particular bandwagon. I've been an EFF donor for years, and I think they do incredibly important work defending civil liberties. One of the things I've always admired about them is that they've always stayed tightly focused on their core mission of defending the freedom of the Internet from encroachment by the legal system. For example, they wisely stayed out of the network neutrality debate, recognizing that there were strong civil liberties arguments on both sides. Cheerleading for greater FCC regulation of the cell phone industry seems to me rather far afield from their traditional focus on defending digital freedom.
With that said, I think it's important that critics of regulation not over-state their case. In particular, I don't think there's any reason to think that (as Peter puts it) "closed networks have spurred technological developments." The iPhone is a hit because it's a brilliant product, with excellent software and brilliant industrial design. Its popularity has little or nothing to do with the fact that it's a closed platform operating on a closed network.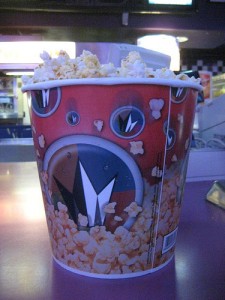 An analogy might help make this point clear: many movie theaters sell relatively cheap tickets and make their profits selling expensive refreshments. To make this business model work, movie theaters spend resources to prevent their customers from bringing their own food into the theater. Now, I certainly think it's reasonable to say that movie theaters should be free to pursue this business model. And obviously many consumers believe they're getting a good deal. But I don't think any of them would cite their inability to bring food into the theater as one of the theater's selling points. The policy is clearly designed to benefit the theater, not its patrons.
The same point applies to closed technology platforms. I certainly don't think it should be illegal for companies to build closed networks or platforms. But it's a little silly to pretend that companies' efforts to lock down their products somehow improve the products or promote competition. The iPhone would be an even better (although possibly less profitable) product if customers had the freedom to install unauthorized applications. And the cellular market would be even more competitive if consumers had greater freedom to combine any device with any network. The iPhone is a great product in spite of, not because of, the restrictions Apple and AT&T place on it.
Finally, libertarians in particular should bear in mind the point Ryan Radia makes here. Apple's stranglehold over the iPhone software market only exists thanks to the Digital Millennium Copyright Act:
The DMCA hasn't stopped millions of iPhone owners from jailbreaking their phones and installing Cydia, an unofficial alternative to the official iPhone App Store. Cydia, which lets users download banned iPhone apps like Google Voice, has been installed on a whopping one in ten iPhones, according to its developers.

But jailbreaking programs and applications like Cydia are in risky legal territory. Developers who circumvent the iPhone's copy protection systems are at risk of being sued by Apple, as are users who run jailbreaking software. Apple maintains that jailbreaking software is illegal under federal law, though it has not taken legal action against any unauthorized iPhone developers to date.
In a free market, consumers would have a choice between using Apple-approved software or switching to competing software offered by a variety of third-party vendors. Unfortunately, the DMCA has pushed the "jailbreaking" community underground, resulting in a world in which only the most technically-savvy users have a choice. I'm not convinced this is such a serious problem that we need to give the FCC the power to regulate the mobile software industry. But it is a problem, and I think it's important to say so.