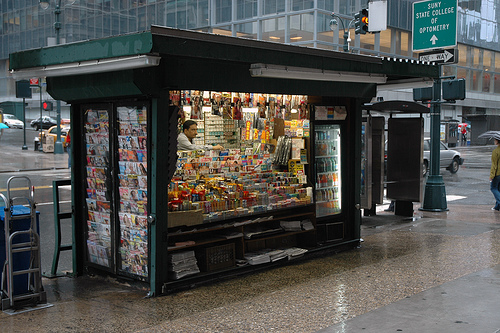 Via Mike Masnick, Guardian editor Alan Rusbridger has a great piece explaining what's at stake in the paywall debate:
The second issue it raises is the one of 'authority' versus 'involvement'. Or, more crudely, 'Us versus Them'. Again, this is similar to the other two forks in the road, but not quite the same. Here the tension is between a world in which journalists considered themselves – and were perhaps considered by others – special figures of authority. We had the information and the access; you didn't. You trusted us filter news and information and to prioritise it – and to pass it on accurately, fairly, readably and quickly. That state of affairs is now in tension with a world in which many (but not all) readers want to have the ability to make their own judgments; express their own priorities; create their own content; articulate their own views; learn from peers as much as from traditional sources of authority. Journalists may remain one source of authority, but people may also be less interested to receive journalism in an inert context – ie which can't be responded to, challenged, or knitted in with other sources. It intersects with the pay question in an obvious way: does our journalism carry sufficient authority for people to pay – both online (where it competes in an open market of information) and print?
Or to put it another way, do we want a top-down journalism industry in which readers passively consume what reporters dish out? Or do we want a bottom-up journalism industry in which readers have the opportunity to be an active part of the journalistic process? The former is arguably better for professional reporters. But I think the latter is better for almost everyone else.