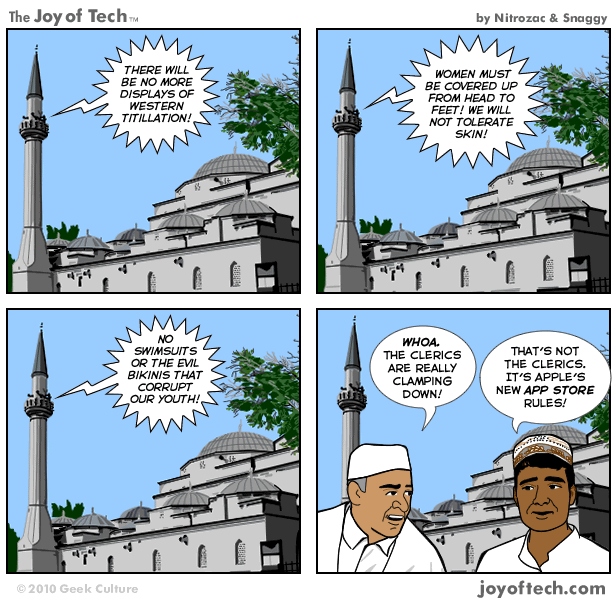 Recently Steve Jobs issued a Fatwa against "overtly sexual content" on the iPhone. Some Apple employee apparently decided that selling bathing suits to women is an "overtly sexual" activity, and blocked the app.
I had an argument with Adam Thierer earlier this week about how outraged we should get over this policy. Adam made the entirely valid point that it's Apple's app store and they're entitled to carry whatever apps they want. This is true enough. But likewise this is my blog, and I'm entitled to write unflattering things about them in response.
But I think the key thing to focus on isn't the abstract question of whether porn on iPhones is good or bad. The key thing to recognize is how fundamentally broken the process itself is. "Overtly sexual content" is a concept that seems clear in the abstract but gets leaky once you have to actually classify tens of thousands of applications. Apple is going to make mistakes, and when they do hapless developers are going to find their apps blocked, often with little explanation or recourse. Also, Apple is going to change its mind periodically, and when they do the affected developers are going to find their hard-earned apps rendered worthless overnight. This is no way to run a technology platform. It's unfair to developers and it doesn't scale. And this is precisely why it would be better for everyone if Apple could come up with an application distribution scheme that didn't require so much central planning.