Not everyone in the US military was surprised by the American failure in Vietnam. Two people who clearly saw what was coming were Lieutenant Colonel John Paul Vann and Colonel Dan Porter, officers who were stationed in the Mekong Delta in the early 1960s. Halberstam tells the story:
Vann's reporting had caused some problems in the past. Now a major storm would center around him in January 1963 when the division he advised was badly defeated and performed with great cowardice at the battle of Ap Bac, which, being close to Saigon, was well covered journalistically. Harkins was furious, not at the Vietnamese or their commander, but at Vann for having called it a defeat and for having talked with American reporters. Harkins planned to fire Vann at the time but was talked out of it by staff members who argued that firing him would bring even more adverse publicity; they also warned that advisory morale was low enough as it was. Instead, Harkins upbraided Vann, and Vann became a nonperson. Anything he wrote or said thereafter was simply disregarded, and important visitors to the country were steered away from his area.

Porter, Vann's immediate superior, was next. Before he went home after two long years, he had to turn in a final report, and it was brutally frank. Aides suggested that Porter sweeten it by putting in a few positive notes, but he refused. He was angry and bitter over the way his subordinates were being treated, and after consulting with Ladd, Vann, and Wilson, he handed in the most pessimistic report on the war so far, on the nature of the peasant, the enemy, and the ally. Harkins went into a rage over it; normally final reports of senior advisers were circulated for all the top advisers, but Harkins had Porter's report collected. He told other officers that it would be sanitized and that if it contained anything of interest, he might make it available. It was never seen again, which did not surprise Porter, but enough was enough, he was leaving the Army.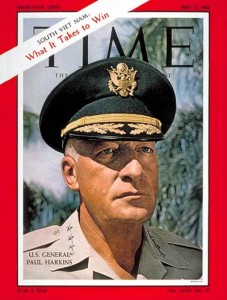 While it's hard to justify Harkins' behavior, it's not actually that hard to explain. Harkins faced the same pressures to submit rosy reports to his superiors that his subordinates faced to report good news to him. Moreover, it's probable that Harkins sincerely believed that the optimistic reports he was getting from his other subordinates were correct, and that Porter was being a sourpuss—and jeopardizing the war effort in the process.
Incidents like this, repeated across an organization and over time, will powerfully shape the character of a large, hierarchical institution like the US military. People who are willing to toe the party line and sugar-coat bad news get promoted. People who refuse to do so become unpersons or leave the military entirely. In this environment, it would be surprising if the upper echelons of the military contained anything other than "yes men."
And for this reason it's utterly unsurprising that Bunker was so oblivious four year later. Bunker's optimistic views on the war presumably came from conversations with the military brass, who would have been every bit as over-confident as their predecessors. Bunker probably took them at their word, but even if Bunker had taken Halberstam's argument to heart and wanted to get the real story out of the military hierarchy, it would have been hard to do so. The more junior officers would have faced strong incentives to both give optimistic reports in general and not to speak outside of the chain of command. Even if Bunker had managed to find junior officers willing to give him a frank assessment, it would have been hard for him to put those individual reports into context—to know whether he just happened to find an officer whose region of the country was unusually bad. In short, it would have taken a great deal of effort on Bunker's part to penetrate the layers of bureaucracy far enough to get a straight story about how the war was actually going.