For those not steeped in tech policy, my last post was a satirical look at the spectrum policy debate. In particular, it was inspired by last month's Tom Hazlett interview on Jerry Brito's excellent podcast, Surprisingly Free. The quotes in the post are verbatim quotes from the podcast with the obvious pizza-related substitutions.
Tom Lee
spotted
the key weakness with my pizzaright analogy: when I broadcast, it might interfere with my neighbor's broadcasts. Pizza-making isn't like that: my making a pizza doesn't make my neighbor's pizza less delicious. So we need property rights in spectrum, but we don't need pizzarights.
Unfortunately, the world isn't that simple. The question of whether spectrum is rivalrous is at the heart of the debate over spectrum policy, and it's hotly contested. Smart people like Kevin Werbach and Yochai Benkler argue it's not. They argue that with the right institutions, wireless devices can self-organize to share the spectrum, just as human being self-organize to communicate in a crowded room without any centralized control over speech volumes.
Now, to be clear, I think Werbach and Benkler overstate their case. It seems pretty clear to me that there are some wireless applications that require exclusive use, and so I favor the creation and auctioning off of property rights for a significant fraction of the electromagnetic spectrum. But the point of my last post was to critique the common presumption that pro-free-market thinkers should necessarily favor the creation of exclusive, nationwide property rights for the entire spectrum.
To see why this is wrong, it's worth thinking about the debate over carbon emissions. In a sense, this is also a debate over scarcity. One side favors treating the atmosphere's ability to absorb carbon as a commons (Jerry would probably call it an "open access" regime, but I use the "common" terminology), allowing anyone to emit carbon dioxide without legal restrictions. The other side believes that this will lead to a tragedy of the commons, and so they favor a property-rights-oriented approach. The weird thing is that the left and right in the carbon debate are on the opposite sides from the positions they occupy in the spectrum debate. In the spectrum debate, a commons is considered a "left-wing" position, while property rights are considered "right-wing." In contrast, in the carbon debate you find right-wingers advocating a "carbon commons" while left-wingers advocate a property-like regime called cap and trade.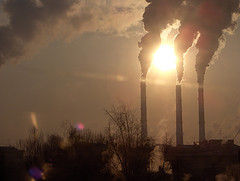 When thinking about the best legal rules to govern the use of a natural resource, there are two steps to the analysis. First, we need to ask whether we need a legal regime of exclusive control at all. If the answer is no, then the resource should be freely available for anyone to use. On the other hand, if the resource is scarce, then we need to figure out whether to employ property rights (like cap and trade or spectrum auctions) or command and control (like traditional EPA or FCC regulations).
Advocates of the free market prefer property regimes to command-and-control regimes. Left-wingers sometimes prefer command-and-control regulation to markets. But there's not an obviously free market or anti-free-market side in the debate over whether a given resource is sufficiently scarce to merit exclusive control (either government or private) in the first place. This is an empirical question, and in an ideal world people with similar ideologies could wind up on all sides of the debate.
And so it bothers me when free-market economists conflate the two issues and attack proposals for unlicensed spectrum as command-and-control regulation. The FCC's decision to allow unlicensed spectrum in certain frequencies is not command-and-control regulation. Quite the contrary, it's a classic case of deregulation—arguably one of the most libertarian things the FCC has ever done. And as a libertarian, I'm happy to see that it has been extraordinarily successful: Hundreds of millions of WiFi cards have been sold, and the technology is integrated into hundreds of successful consumer products, including iPhones, Wiis, and virtually every laptop on the market.
It is important for free-market types to attack "unlicensed" spectrum proposals that actually come with a lot of strings attached. This, I think, is the flaw of the "white spaces" proposal: there's actually nothing unlicensed about it. While the white spaces rules don't restrict who may use the spectrum, it does impose detailed rules about the protocols these devices may use. But the fact that a particular "unlicensed" spectrum program worked out poorly isn't an argument against deregulation in general. And by painting all unlicensed spectrum rules with the same broad brush, free-marketeers malign some of the most successful (and libertarian!) FCC initiatives of the last few decades for no good reason.